Quick and easy healthy meals
at the push of a button
Why ActiFry is the UK's number 1 fryer
?
The healthiest way to fry.

---

Unique patented technology.

---

ActiFry allows you to cook not only chips but other meals.

---

Any oil can be used including olive oil and rapeseed oil.

---

No preheating required ready to use when you are.
Measuring Spoon
By using just one spoonful of oil, you can make 1.5 kilograms of golden, crispy home-made chips, which is enough to feed a family of six. That one spoonful contains 100 times less oil than a traditional deep fat fryer, which not only means that your food is substantially healthier, but cooking is also more economical and 100% safe.
Audible Countdown Timer
Simply set the timer and let ActiFry cook away! You can just sit back and relax while you wait for the alarm timer to sound at the end of the cooking period, letting you know your meal is ready.
Automatic Lid
The automatic lid conveniently opens at the push of a button, so that you can easily add ingredients or seasoning during cooking.The cooking process does pause when the lid is open in order to ensure 100% safety.
Discover the ActiFry range
ActiFry 1kg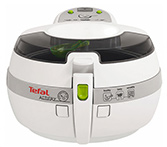 ActiFry Plus 1.2kg
ActiFry 2 in 1
ActiFry Express Black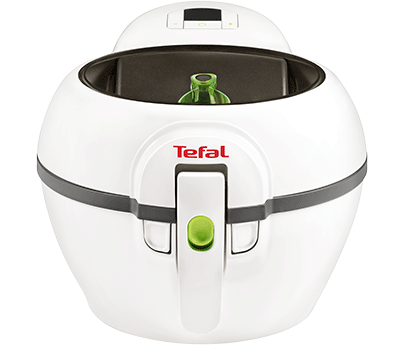 ActiFry Mini
Key benefits
Healthy
At Tefal, healthy eating corresponds to quality cooking which preserves food flavours and reduces cooking time. With ActiFry, you can associate high quality ingredients with a small quantity of oil to quickly prepare flavourful healthy meals for you and your family.
Easy
The automatic temerature control has a unique patented hot air distribution system, which circulates the hot air through the food for perfect even cooking. With a transparent lid, it is easy to look at what you are cooking.
Odourless
With a standard deep fat frier, burned bits often accumulate in the oil as it is used and reused creating unpleasant burned smells. With ActiFry both fat and oil smells are reduced and the oild is only used once minimising any cooking odours.
Versatile
The ActiFry is a very versatile machine - Not only can you cook real chips - but a whole range of other meals including casseroles, crunchy mixed fried vegetables, slices of meat and fish.
100% safe
As there isn't a large amount of oils heated up, and there is no condensation on the lid, the ActiFry is the safest frier on the market.
Tasty
The good news is you don't have to choose between a balanced diet and delicious food. There is a solution: ActiFry. This innovative appliance was designed by Tefal to decrease the quantity of fat needed to cook chips and your favourite dishes without denaturing the taste!
FAQ's
Commonly asked questions to help your product understanding
---
▶
What are the best potatoes to use in the ActiFry?
Maris Piper generally give the best results. However, results can vary for all potatoes used depending on the season and how they are stored in supermarkets. If you do not achieve good results, try changing where you purchase them from.
▶
Why does the power cable connector on the Family ActiFry move in its housing?
As part of TEFAL's continuous improvement and development of our products and following quality analysis from the market we have changed the Class II Power coupler connection of the Family ActiFry from production from week 10 2012, this change of coupler is to improve durability and contact resistance of the coupler. The new supplier has a component with improvements in both the durability and flexibility of the item; these changes are compliant with IEC 60320 C17/C18, the unit has been tested to IEC/EN 60320.
▶
Where can I buy replacement parts for my ActiFry?
▶
How much oil is recommended for use in the ActiFry?
For the standard capacity 1kg ActiFry and 1.2kg ActiFry plus,there is a spoon provided with a volume of 14ml. The 1.5kg food capacity Family ActiFry is supplied with a spoon measuring 20 ml. The majority of recipes will use 1 spoonful of oil, however this may change according to the recipe. Some foods do not need one full spoonful of oil to be cooked in the ActiFry : frozen chips will already have oil on the exterior and fatty foods such as sausages may not need a full spoonful of oil as there may be a lot of fat already in the foods.
▶
Do I have to use the paddle during cooking?
Yes to prevent food falling into the motor unit.