Healthy, Convenient, Versatile
The healthy way to fry with Tefal® ActiFry®!
Tefal introduces ActiFry®, a revolutionary healthy fryer using only one spoonful of oil to cook 1kg of perfect crispy chips! For a quicker alternative, you can even cook oil-free chips from frozen. And its talents don't end there, as you can cook curries, casseroles, stir-frys, risottos, desserts & much more!

Convenient and user-friendly, ActiFry's unique patented technology allows hands-free cooking and ensures excellent and even cooking results, every time.
Why is ActiFry® the UK's number 1 fryer?
The healthy way to fry.

---

Unique patented technology.

---

ActiFry® allows you to cook not only chips but other meals.

---

Any oil can be used including olive oil and rapeseed oil.

---

No preheating required ready to use when you are.
Quick and easy healthy meals
at the push of a button
Features to make life easier
Audible Countdown Timer
Simply set the timer and let ActiFry® cook away! You can just sit back and relax while you wait for the alarm timer to sound at the end of the cooking period, letting you know your meal is ready.
Discover the ActiFry® range
ActiFry® 1kg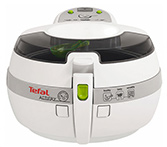 ActiFry® Plus 1.2kg
ActiFry® Express
ActiFry® 2 in 1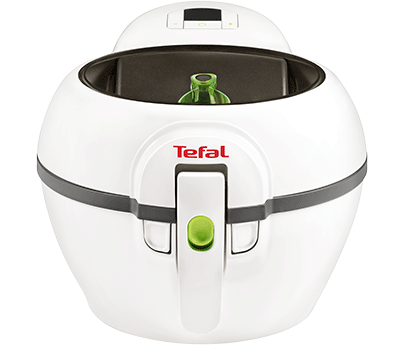 ActiFry® Mini
Why choose ActiFry®
Healthy
At Tefal, healthy eating corresponds to quality cooking which preserves food flavours and reduces cooking time. With ActiFry®, you can associate high quality ingredients with a small quantity of oil.
Easy
The automatic temperature control has a unique patented hot air distribution system, which circulates the hot air through the food for perfect even cooking. With a transparent lid, it is easy to look at what you are cooking.
Odourless
With Standard deep fat fryers, burned bits often accumulate in the oil as it is used and reused creating unpleasant burned smells. With ActiFry® both fat and oil smells are reduced and the oil is only used once.
Versatile
Not only can you cook real chips - but a whole range of other meals including casseroles, crunchy mixed fried vegetables, slices of meat and fish.
100% safe
As there isn't a large amount of oil heated up, and there is no condensation on the lid, the ActiFry® is the safest fryer on the market.
Tasty
This innovative appliance was designed to decrease the quantity of fat needed to cook chips and your favourite dishes without compromising on the taste!
Cook with ActiFry®
Cook Creamy Mushrooms & Salmon
Cook Steak & Chips!
Cook The Best French Fries